Meet our new Story Catalyst: Justyn Smith!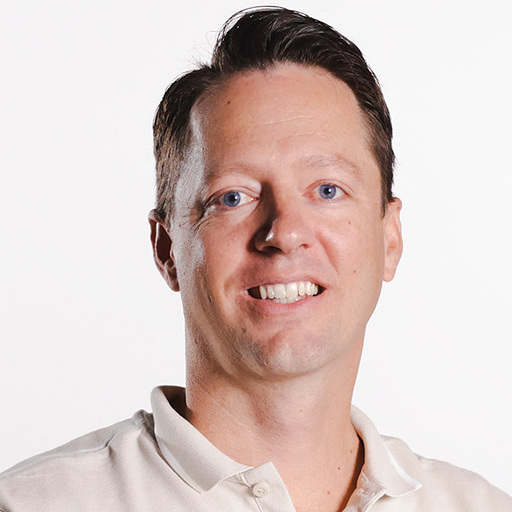 Justyn, who lives just outside Seattle, Washington, spent more than two decades working in church ministry before joining the Storyland Studios team. His primary focus was on teaching teens and kids, as well as working with other children's and youth pastors. He worked in churches of all sizes, from church plants to megachurches with over 10,000 members.
In addition to pastoring at multiple churches over the course of his career, Justyn also gained valuable experience as a Strategy Consultant for kids' ministries.
"I really enjoyed making a difference in that space," Justyn says. "Along that journey, I discovered that I loved storytelling and finding creative ways to tell the story of who Jesus is."
Justyn's love of storytelling led him to connect with PlainJoe: A Storyland Studio as a client.
"Plainjoe helped me create characters, rebrand, redo physical spaces, and dabble a little bit in some of the digital aspects," he says. "Now, as a Story Catalyst myself, I'm super excited to extend the legacy and champion PlainJoe and Storyland with the faith community.
"I believe we can make a difference in the way we present Christ to people in our physical and digital spaces."
Stepping Into the Themed Entertainment World
Through his connection with PlainJoe, Justyn began to see themed, immersive environments playing a role in the church. He was initially intrigued by the large churches he observed creating entertaining spaces and original characters.
"Themed environments in the church are fairly new," he says. "Seeing churches do a great job with developing characters and bringing them to life, whether puppets or animation, really piqued my interest."
Justyn was inspired by the themed environments' ability to transform the worship experience. When he and his team got the opportunity to work with churches that were investing in these environments, he was able to witness these changes firsthand.
"We took advantage of that and created spaces that kids or families could walk into and feel like they're not at church, but in a new world–a vehicle for them to explore faith versus the typical four walls."
"The shell can be anything," Justyn says. "You want people who aren't familiar with faith to look at the space and say, 'Wow, that's amazing!' The outside doesn't matter so much. I think it's what happens on the inside."
Justyn has worked on some pretty incredible projects with PlainJoe over the years, including Morris Cerullo World Evangelism in San Diego, where he partnered in creating The Legends of Lightfall comic books. He has consulted and helped many churches, faith-based organizations, and nonprofits over the years with spatial storytelling. According to Justyn, working alongside these organizations to shape their brand and physical spaces has been incredibly fulfilling.
Notable Projects Along the Way
Justyn says there are two notable projects that stand out from his professional experience so far, both from his time at River Valley Church in Minneapolis. The first is a series called Milestones, which contained helpful content that helped parents teach their children about faith.
PlainJoe was involved in the project, as well.
"We helped parents walk kids through what it means to make the decision to follow Christ, to be baptized, to take communion, and other important spiritual topics," he says. "It has been replicated in countless churches all over America."
Another memorable project that stands out for Justyn is creating a character universe inspired by the style of the Marvel Cinematic Universe. His team created original characters with their own world, then built a curriculum around that.
"The kids looked forward to going on adventures with the characters and exploring the world they lived in," he says. "That's how we were able to teach God's word to kids, and that was a lot of fun."
Just for Fun…
Outside of his work with Storyland and PlainJoe, Justyn is an avid sports lover.
"I'm super competitive, so anything sports-related? I'll watch it. I'll play it," he says.
As a father of seven, Justyn spends most of his downtime hanging out with his kids and spending time outside. He's also a fan of all things Disney.
"When it comes to the Walt Disney Company or Disneyland history, I love getting into all that. It's a lot of fun."
Career Advice For Aspiring Themed Entertainment Professionals
For aspiring themed entertainment professionals, Justyn recommends both reading and actively connecting with other professionals in the industry.
"Pick their brain; take them out for coffee. Ask them leading questions," Justyn says. "Be a student and take notes."
He also recommends picking up books and resources to learn more about the industry. Additionally, he says sources such as YouTube are great, and they're available for free to anyone. And because so many different professions fit within themed entertainment, there are multiple doors into the industry.
"Find your sweet spot," he says. "You can be a project manager, a computer programmer, or an artist. There are so many things you can do within the community."